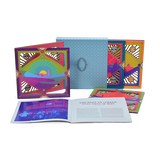 May 1977: Get Shown The Light (All Music Edition)[CD]
Availability:
This item is currently not available
WHAT'S INSIDE:
Four Complete Shows on 11 discs
Four folios housed in a slipcase
5/5/77 Veterans Memorial Coliseum: New Haven, CT
5/7/77 Boston Garden: Boston, MA
5/8/77 Barton Hall, Cornell University: Ithaca, NY
5/9/77 Buffalo Memorial Auditorium: Buffalo, NY
50-page book of liners and photographs
Sourced from the Betty Cantor-Jackson soundboard recordings, transferred by Plangent Processes
Mastered in HDCD by Jeffrey Norman
Artwork by Grammy-winning graphic artist Masaki Koike
NEW HAVEN 5/5/77

"Here is a prime example of the saying 'the whole is greater than the sum of the parts' ... It's called synergy and the Dead wrote the book on it."

BOSTON 5/7/77

"The music they laid down brought me places I had not been before."

CORNELL 5/8/77

"...the single best rock performance anywhere, anytime, by anyone."

"There was just some kind of magical connection this night between the band members and the band and the audience - some texture, or some type of cosmic or celestial force is in the room."

"This show is, was, and always will be Mecca."

BUFFALO 5/9/77

"...an awesome display of the Dead's captivating power."

MAY 1977: GET SHOWN THE LIGHT (ALL MUSIC EDITION) is a collection of what is unanimously believed to be the most sought-after previously unreleased complete shows the Grateful Dead ever played. Collected, traded, and debated for decades, "the beloved Golden Trinity" of Boston, Ithaca, and Buffalo, along with their New Haven prelude, have inspired fans to "get on the bus," converted critics, and even garnered national attention (Cornell was added to the Library of Congress' National Recording Registry). But until now, you've never really heard them quite like this!

The Dead is in the details... how serendipitous is it that the notorious Betty Boards were returned to the archive just in time for the 40th anniversaries of these shows? Lovingly sourced from these well-reputed recordings, we invite you to experience four utopian shows just like they happened, to "be inside the music" as engineer Betty Cantor-Jackson intended. Whether you listen to each night on its own or imbibe the whole lot at once, we suspect you'll hear why every note mattered. Much like we were, you will be hard-pressed to determine which of these fine documents - will it be the understated but nuanced New Haven, Boston's festive fantasy vibes, the monumental catharsis of Ithaca, or Buffalo's dreamy exuberance - is truly "the best." Does it really matter? We think not.