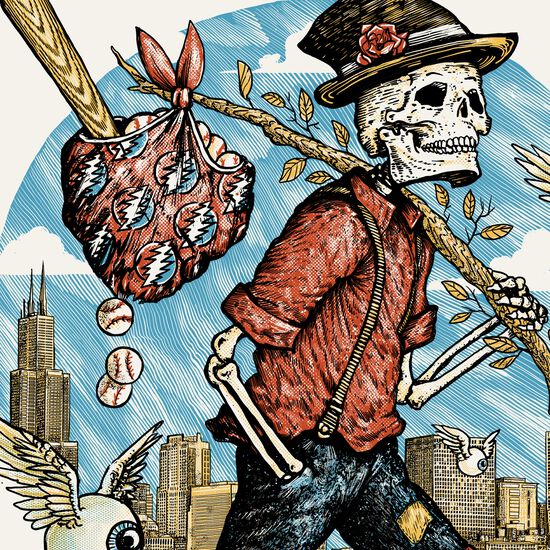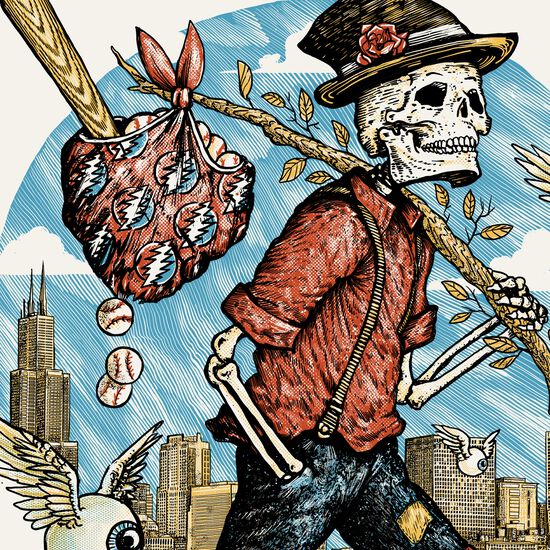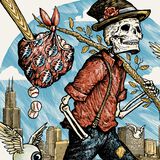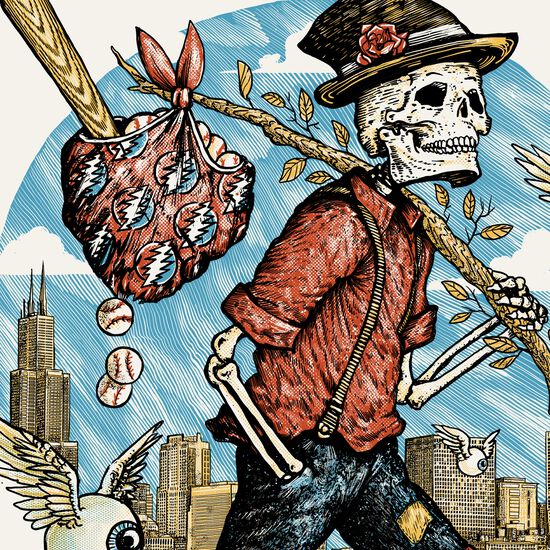 Wrigley Field, Chicago, IL 7/1/17 (Live) Digital
Pre-order included
Availability:
Select Styles for Availability
There's a longstanding tradition at Wrigley Field: after every Cubs victory, a banner bearing a big capital "W" (for "Win") is run up the flagpole in center field. As June gave way to July, it felt as though Dead & Company, having played a killer of a show the previous day, had already clinched the pennant, but the band took the stage for the final two sets of the tour clearly determined to notch one more "W"
Starting off with some traditional opening-half favorites – "Cold Rain And Snow," "Jack Straw," "Tennessee Jed" and "Ship Of Fools," the band then proves that they didn't use up all their surprises on night one at Wrigley, not just launching a a rare first-set "Dark Star" (the second verse of the version they'd started the night before), but with Bob and John on acoustic guitars, with which they then shift gears into a spirited "Friend Of The Devil." Next comes a characteristically strong "Althea" with impassioned lead vocal and guitar by John and a terrific piano solo by Jeff, and a raucous "Casey Jones," with breakneck acceleration at the climax, to wrap up Set One.
The very last set of Summer '17 begins in high spirits with "Sugar Magnolia," and keeps things moving with the Martha and the Vandellas evergreen "Dancing In The Street" (doesn't hurt that the first in the song's series of urban namechecks is "they're dancin' in CHICAGO!"). All it takes is a simple change of verb and noun in the titles, and "Dancing In The Street" magically becomes "Playing In The Band," which inspires some fine jazz-inflected jamming that elegantly transitions into the beautiful "Comes A Time," featuring Oteil's vocal. After that tender respite, things get grooving again in a big way with the "Scarlet Begonias>Fire On The Mountain" double shot, propelling Bill and Mickey right into a gigantic final Drums sequence of the tour. An especially oblique Space segment picks up rhythmic steam toward its end and drops us into the explosive opening to a wild version of the "The Other One." Out of that smoking crater emerges Jeff Chimenti's stately piano introduction to the exquisite final work in the long and brilliant collaboration of Jerry Garcia and Robert Hunter, "Days Between," sung expressively by Bob. Then, to finish the set, the unalloyed joy of Buddy Holly's "Not Fade Away," with the crowd happily singing the refrain and clapping out the rhythm as the band departs the stage, then returns for the sweet lullaby "Brokedown Palace." A perfect note on which to end a great tour. Or is it? Nope! One more loose end to tie up, as the band kicks into the "Sunshine Daydream" coda to the set-opening "Sugar Magnolia," the crowd goes bonkers and fireworks fill the sky beyond the centerfield scoreboard. And that's a wrap on Summer Tour 2017. Run that "W" up the flagpole!
| | |
| --- | --- |
| Cold Rain and Snow | 9:08 |
| Jack Straw | 12:35 |
| Tennessee Jed | 9:50 |
| Ship of Fools | 10:20 |
| Dark Star | 8:23 |
| Friend of the Devil | 6:25 |
| Althea | 13:03 |
| Casey Jones | 7:25 |
| Sugar Magnolia | 8:54 |
| Dancing in the Streets | 13:22 |
| Playin' in the Band | 7:43 |
| Comes A Time | 9:40 |
| Scarlet Begonias | 10:07 |
| Fire on the Mountain | 10:15 |
| Drums | 10:44 |
| Space | 6:01 |
| The Other One | 9:43 |
| Days Between | 12:50 |
| Not Fade Away | 10:49 |
| Brokedown Palace | 6:38 |
| Sunshine Daydream | 3:45 |