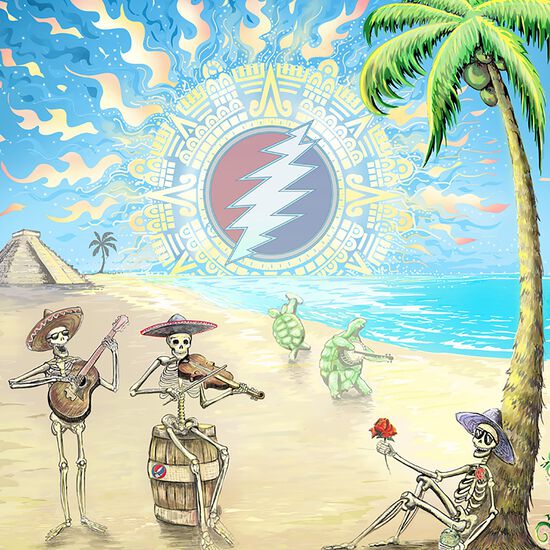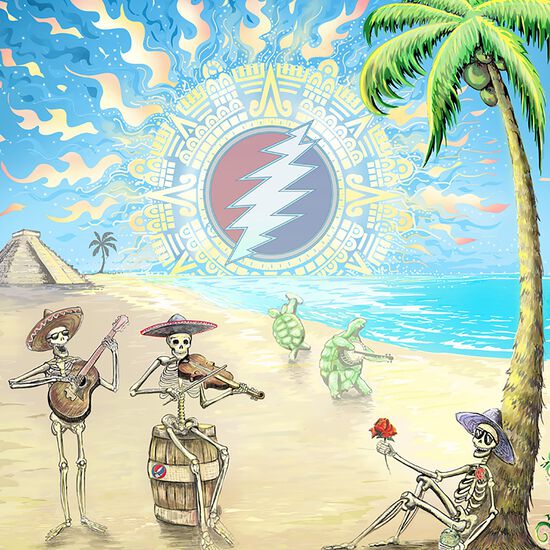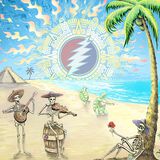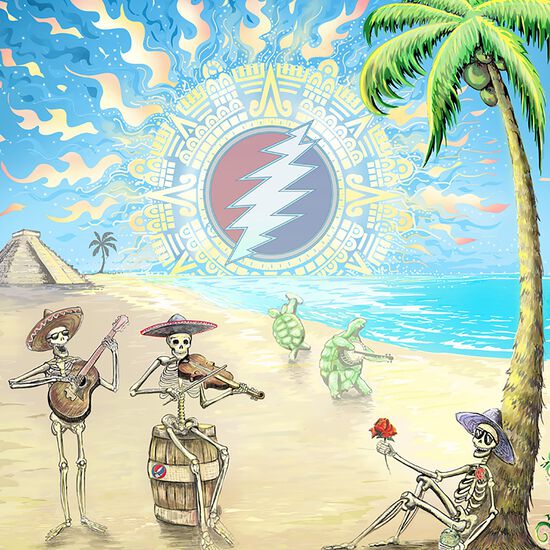 Playing In The Sand, Riviera Maya, MX 2/15/18 (Live) Digital
Availability:
Select Styles for Availability
Comment On Playing In The Sand, Riviera Maya, MX 2/15/18 (Live) Digital Here
"…and we hightailed it down to Mexico…"
There's nothing to relieve the chill of mid-winter like a little getaway to a tropical paradise. So, when Dead & Company announced a run of shows on the shores of the Yucatan Peninsula scheduled for February of 2018, several thousand happy Dead Heads quickly grabbed up every available ticket and hotel reservation and headed south of the border, to the Barcelo resort at Riviera Maya, Mexico. The excursion, appropriately named "Playing In The Sand" – quite literally, as the stage was set up right on the beach overlooking the Caribbean – provided both a sweet coda to the hugely successful fall tour of 2017 and a harbinger of more great things to come in the new year.
As this recording makes clear, the band wasted no time diving deep into the waters of collective musical adventure, kicking off the event's opening set with a long and exploratory "Playing In The Band," which the tone for an jam-intensive evening including such other ideal launching pads for group improvisation as "Cassidy" (one of several homages to Bob Weir's longtime friend and songwriting partner, John Perry Barlow, who had passed away just days earlier), "Scarlet Begonias>Fire On The Mountain," "Estimated Prophet" (with quotes from Bob Marley and John Coltrane thrown in for good measure) and "Eyes Of The World." Other highlights included fine renditions of Grateful Dead originals like "Brown-Eyed Women" and "Althea" and well-chosen covers including "The Weight" and "Good Lovin'" (with the band infusing the latter with some regional flavor by going into bit of the classic "La Bamba," the traditional tune that became a giant hit for rock 'n' roll's first Mexican-American superstar, Ritchie Valens).
size
Please select a size
---
Playing In The Sand, Riviera Maya, MX 2/15/18 (Live)
Playin' in the Band
Me & My Uncle
He's Gone
Cassidy
Brown-Eyed Women
Bertha
Good Lovin'
Scarlet Begonias
Fire on the Mountain
Althea
Estimated Prophet
Eyes of the World
Drums
Space
Looks Like Rain
I Need a Miracle
Casey Jones
The Weight