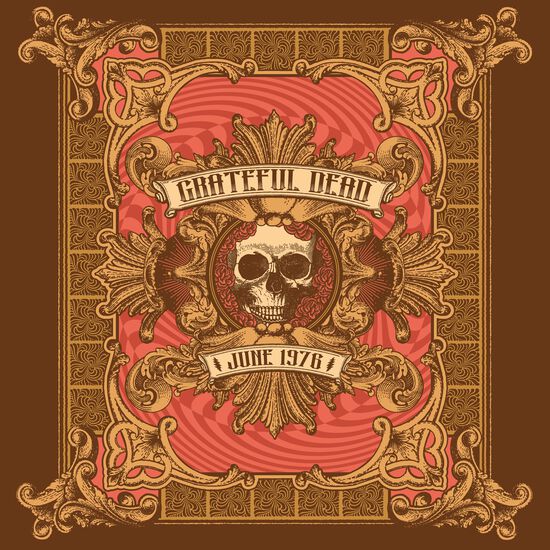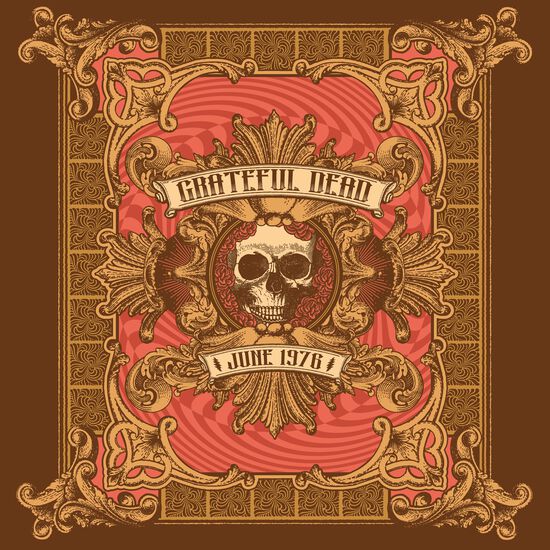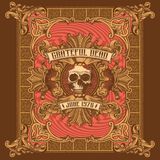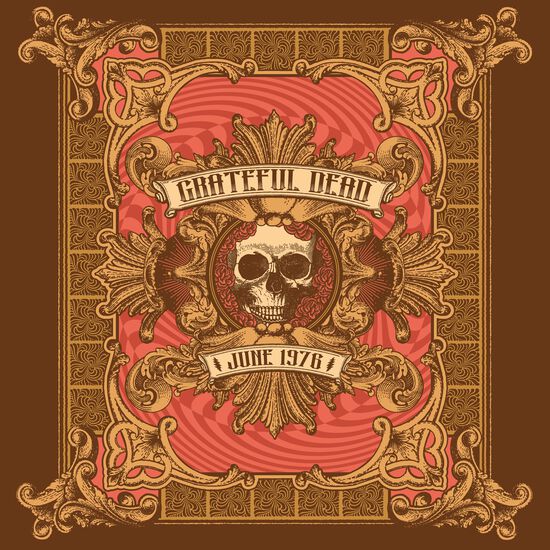 Pre-order included
What's Included:
5 Previously Unreleased Complete Shows
Boston Music Hall, Boston, MA 6/10/76
Boston Music Hall, Boston, MA 6/11/76
Beacon Theatre, New York, NY 6/14/76
Beacon Theatre, New York, NY 6/15/76
Capitol Theatre, Passaic, NJ 6/19/76
Sourced from Two-Track Master Tapes, Recorded By Betty Cantor-Jackson
Mastered by Jeffrey Norman
Restoration and Speed Correction by Plangent Processes
During the mid-1970s, the Grateful Dead saga was unfolding like a Greek classic. The Sisyphean Wall Of Sound had nearly broken the band. From it spawned a Medusa head of countless side projects, all deliciously fruitful but woefully not the same as the whole. The chorus lay in wait, pondering the reemergence of their heroes, and wondering if "THE LAST ONE" had really been it...
But in early 1976, Apollonian light and healing would shine upon our intrepid wanderers once again. No more epic battles for the people with cops and lines and tightness, the Dead would return triumphant in smallness, playing intimate theaters and renting equipment along the way. No more ticket scams and greedy promoters, they'd give back with first ever mail-order ticket program, one that had a few kinks to work out but eventually served the fans well.
Musically, June 1976 signaled a Golden Age of harmony and prosperity for the Dead. It marked an Odysseusian-like return for Mickey Hart. Donna Jean was in lock-step with the sirens' call. Jerry and Bob delivered orphic delight with solo musings like "Mission In The Rain" (the only tour they ever played it on), "The Wheel," and "Cassidy," emboldened by group effort. There was fresh repertoire from Blues For Allah, breathing new life to the Dead's continually morphing sound - as Weir once said of the '76 tour, they wanted to play "a little bit of all of it." Old favorites were re-envisioned with cascading tempos and unique sequencing, making the crowd question if they'd ever heard these songs before. And there was comfort and joy in the familiarity of watching the band make it up as they went along. By all means, it was clear that the bacchanalia of live Dead would reign on.
And now the revelry from this epoch, evidenced by the near-studio quality sound captured on two-track live recordings by Betty Cantor-Jackson, lives on, bolstered by Jeffrey Norman's HDCD mastering. It's housed for posterity in a handsome box featuring original art work by Justin Helton. It's documented in liners by Jesse Jarnow and photos by Grant Gouldon. And it's ready for a spot on your shelf.
As part of our pre-order for this Dead.net exclusive boxed set, we'll be delivering downloads of each listening party - one for each show included in JUNE 1976 - to purchasers from now until the March 20th release. Order at any time before release and you'll receive all the listening parties to date.
What's Included:
5 Previously Unreleased Complete Shows
Boston Music Hall, Boston, MA 6/10/76
Boston Music Hall, Boston, MA 6/11/76
Beacon Theatre, New York, NY 6/14/76
Beacon Theatre, New York, NY 6/15/76
Capitol Theatre, Passaic, NJ 6/19/76
Sourced from Two-Track Master Tapes, Recorded By Betty Cantor-Jackson
Mastered by Jeffrey Norman
Restoration and Speed Correction by Plangent Processes
Boston Music Hall, Boston, MA (6/10/76)
Disc 1
1. Promised Land [3:51]
2. Sugaree [9:52]
3. Cassidy [5:00]
4. They Love Each Other [8:29]
5. The Music Never Stopped [5:47]
6. Brown-Eyed Women [5:37]
7. Lazy Lightning> [2:56]
8. Supplication [4:26]
9. Row Jimmy [9:23]
10. Big River [6:28]
11. Mission In The Rain [7:27]
12. Looks Like Rain [9:08]
Disc 2
1. Might As Well [6:11]
2. Samson And Delilah [7:18]
3. Help On The Way> [4:47]
4. Slipknot!> [6:59]
5. Franklin's Tower [11:17]
6. Let It Grow [11:36]
7. Friend Of The Devil [8:11]
Disc 3
1. Playing In The Band> [14:37]
2. Dancing In The Street> [11:02]
3. U.S. Blues [5:49]
Boston Music Hall, Boston, MA (6/11/76)
Disc 4
1. Might As Well [6:09]
2. Mama Tried [3:24]
3. Tennessee Jed [8:59]
4. Cassidy [5:06]
5. Candyman [8:28]
6. Big River [6:18]
7. Scarlet Begonias [10:16]
8. Looks Like Rain [8:53]
9. It Must Have Been The Roses [7:11]
10. Lazy Lightning> [2:53]
11. Supplication [5:21]
12. Brown-Eyed Women [5:09]
Disc 5
1. Promised Land [3:56]
2. St. Stephen> [9:49]
3. Dancing In The Street> [11:58]
4. The Music Never Stopped [5:42]
5. Ship Of Fools [7:11]
Disc 6
1. Samson And Delilah [7:09]
2. Sugaree [11:05]
3. Sugar Magnolia> [6:04]
4. Eyes Of The World> [13:13]
5. Stella Blue [10:49]
6. Sunshine Daydream [3:29]
7. Johnny B. Goode [4:15]
Beacon Theatre, New York, NY (6/14/76)
Disc 7
1. Cold Rain And Snow [6:49]
2. Mama Tried [3:45]
3. Row Jimmy [10:13]
4. Cassidy [5:08]
5. Brown-Eyed Women [5:26]
6. Big River [6:21]
7. Might As Well [6:00]
8. Lazy Lightning> [2:56]
9. Supplication [4:53]
10. Tennessee Jed [8:57]
Disc 8
1. Playing In The Band> [19:40]
2. The Wheel [6:09]
3. Samson And Delilah [6:36]
4. High Time [9:52]
5. The Music Never Stopped [5:26]
6. Crazy Fingers [11:33]
Disc 9
1. Dancing In The Street> [12:37]
2. Cosmic Charlie [8:47]
3. Help On The Way> [4:55]
4. Slipknot!> [13:00]
5. Franklin's Tower> [11:03]
6. Around And Around [7:18]
7. U.S. Blues [5:52]
Beacon Theatre, New York, NY (6/15/76)
Disc 10
1. Promised Land [4:26]
2. Sugaree [9:44]
3. Cassidy [4:58]
4. Candyman [7:48]
5. The Music Never Stopped [5:54]
6. It Must Have Been The Roses [7:16]
7. Looks Like Rain [7:06]
8. Tennessee Jed [9:44]
9. Let It Grow> [13:14]
10. Might As Well [5:26]
Disc 11
1. St. Stephen> [11:11]
2. Not Fade Away> [12:15]
3. Stella Blue [13:53]
4. Samson And Delilah [6:25]
5. Friend Of The Devil [8:24]
Disc 12
1. Dancing In The Street> [13:01]
2. The Wheel> [4:44]
3. Sugar Magnolia [6:05]
4. Scarlet Begonias> [4:48]
5. Sunshine Daydream [3:39]
6. Johnny B. Goode [4:12]
Capitol Theatre, Passaic, NJ (6/19/76)
Disc 13
1. Help On The Way> [5:50]
2. Slipknot!> [6:30]
3. Franklin's Tower> [9:38]
4. The Music Never Stopped [6:05]
5. Brown-Eyed Women [5:27]
6. Cassidy [4:55]
7. They Love Each Other [7:34]
8. Looks Like Rain [8:02]
9. Tennessee Jed [8:29]
Disc 14
1. Playing In The Band [19:14]
2. Might As Well [6:25]
3. Samson And Delilah [7:07]
4. High Time [9:38]
Disc 15
1. Let It Grow> [13:09]
2. Dancing In The Street> [10:20]
3. Cosmic Charlie [9:11]
4. Around And Around> [6:28]
5. Goin' Down The Road Feeling Bad> [7:16]
6. One More Saturday Night [4:58]
7. Not Fade Away [8:03]