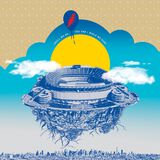 Giants Stadium 1987, 1989, 1991 Digital
Pre-order included
Availability:
Select Styles for Availability
By 1987, the Grateful Dead had lived many of their nine lives but were about to embark on one not a soul had seen coming. In The Dark, their first studio album in seven years, had spawned a hit (A TOP 10 SINGLE FOR THE GRATEFUL DEAD?!) and "Touch Of Grey" begat a new generation with their fanny packs and their MTV and their undeniable quest to join the party already in progress. And boy, did the Dead let them in! But not without fine-tuning their sonic vibes to meet the new demand.
"The Swamp," as Giants Stadium was affectionately known, along with the grandstands the Dead had been frequenting, would seemingly equate with BIGGER and LOUDER, but the band "remained determined to give equal weight to the more subtle, oblique elements; to the exploratory improvisation and rhythmic complexities; to the fine details of the most heart-rending ballads as well as the weirdest dissonances in the jams."
With GIANTS STADIUM 1987/1989/1991, we retrace this journey from their 1987 breakthrough to their 1989 revelation ("the closest they ever came to sounding like a really polished stadium-level rock act, but the band's penchant for breaking out of the constraints of song structure and into freewheeling improvisation will remind you just who you're listening to here") to their transformative return in 1991, aided by elegance of Vince Welnick and Bruce Hornsby.
GIANTS STADIUM: 1987, 1989, 1991 features five previously unreleased shows that were recorded at Giants Stadium in East Rutherford, NJ on: July 12, 1987; July 9 and 10, 1989; and June 16 and 17, 1991. Originally recorded by John Cutler, each show has been mixed from the multitrack master tapes by Jeffrey Norman at Bob Weir's TRI Studios in San Rafael, CA, and mastered in HDCD by David Glasser at Airshow Mastering. The first three shows are mixed from 24-track masters. The final two from 1991 are the only Grateful Dead shows ever recorded to 48-track masters.
What's Inside:
5 Previously Unreleased Complete Giants Stadium Shows
7/12/87 (24-track masters)
7/9/89 (24-track masters)
7/10/89 (24-track masters)
6/16/91 (48-track masters)
6/17/91 (48-track masters)
Mixed from the multitrack master tapes by Jeffrey Norman at Bob Weir's TRI Studios
Mastered in HDCD by David Glasser at Airshow Mastering with Plangent Processes restoration
July 12th 1987
Disc 1
1. Hell In A Bucket [6:25]
2. West L.A. Fadeaway [8:11]
3. Greatest Story Ever Told [4:24]
4. Loser [6:46]
5. Tons Of Steel [6:24]
6. Ramble On Rose [6:55]
7. When I Paint My Masterpiece [4:55]
8. When Push Comes To Shove [5:07]
9. Promised land [3:54]
10. Bertha [7:01]
Disc 2
1. Morning Dew [10:08]
2. Playing In The Band> [9:12]
3. Drums> [7:14]
4. Space> [3:22]
5. The Other One> [6:28]
6. Stella Blue> [7:34]
7. Throwing Stones> [9:11]
8. Not Fade Away [9:08]
July 9th 1989
Disc 3
1. Shakedown Street [13:31]
2. Jack Straw [5:49]
3. West L.A. Fadeaway [8:26]
4. Victim Or The Crime [7:55]
5. Brown-Eyed Women [5:56]
6. Queen Jane Approximately [6:46]
7. Bird Song [11:42]
Disc 4
1. China Cat Sunflower> [6:58]
2. I Know You Rider [6:10]
3. Samson And Delilah [7:28]
4. Built To last [5:29]
5. Truckin'> [10:55]
6. Drums [10:00]
Disc 5
1. Space> [10:06]
2. Gimme Some Lovin'> [5:15]
3. Goin' Down The Road Feeling Bad> [6:33]
4. Throwing Stones> [10:12]
5. Not Fade Away [13:38]
6. Brokedown Palace [5:53]
July 10th 1989
Disc 6
1. Feel Like a Stranger> [8:20]
2. Franklin's Tower [9:13]
3. Walkin' Blues [7:08]
4. Jack-A-Roe [4:50]
5. When I Paint My Masterpiece [6:59]
6. Tennessee Jed [8:28]
7. The Music Never Stopped> [6:19]
8. Don't Ease Me In [3:42]
Disc 7
1. Foolish Heart [11:01]
2. Just A Little Light [5:16]
3. Playing In The Band> [6:42]
4. Uncle John's Band> [12:54]
5. Drums [20:15]
Disc 8
1. Space> [10:11]
2. Iko Iko*> [8:01]
3. All Along The Watchtower*> [5:41]
4. Morning Dew* [10:43]
5. Sugar Magnolia* [10:30]
6. Knockin' On Heaven's Door* [7:58]
June 16th 1991
Disc 9
1. Picasso Moon [7:23]
2. Bertha [7:29]
3. Little Red Rooster [9:30]
4. Candyman [7:33]
5. Stuck Inside Of Mobile With The memphis Blues Again [8:46]
6. Stagger Lee [7:28]
7. Let It Grow [12:43]
Disc 10
1. Jack Straw [7:25]
2. Crazy Fingers [8:32]
3. China Cat Sunflower> [7:05]
4. I Know You Rider> [5:37]
5. Drums [12:17]
Disc 11
1. Space> [13:47]
2. I Need A Miracle> [6:35]
3. Black Peter> [11:35]
4. Throwing Stones> [9:06]
5. Not Fade Away [10:37]
6. Box Of Rain [6:14]
June 17th 1991
Disc 12
1. Eyes Of The World> [15:26]
2. Walkin' Blues [7:01]
3. Brown-Eyed Women [6:10]
4. Dark Star> [1:32]
5. When I Paint My Masterpiece [5:28]
6. Loose Lucy [9:16]
7. Cassidy [7:11]
8. Might As Well [6:41]
Disc 13
1. Saint Of Circumstance> [10:55]
2. Ship Of Fools> [8:01]
3. Dark Star> [1:14]
4. Truckin'> [6:55]
5. New Speedway Boogie> [9:12]
6. Dark Star> [0:55]
7. Uncle John's Band>
8. Dark Star> [8:05]
9. Drums
Disc 14
1. Space> [8:47]
2. China Doll> [5:07]
3. Playing In The Band> [4:35]
4. Sugar Magnolia [10:53]
5. The Weight [6:20]
[DVD/BD]
Set 1
1. EYES OF THE WORLD
2. WALKIN' BLUES
3. BROWN-EYED WOMEN
4. DARK STAR>
5. WHEN I PAINT MY MASTERPIECE
6. LOOSE LUCY
7. CASSIDY
8. MIGHT AS WELL
Set 2
1. SAINT OF CIRCUMSTANCE>
2. SHIP OF FOOLS>
3. DARK STAR>
4. TRUCKIN'>
5. NEW SPEEDWAY BOOGIE>
6. UNCLE JOHN'S BAND>
8. DARK STAR>
9. DRUMS
10. SPACE>
11. CHINA DOLL>
12. PLAYING IN THE BAND
13. SUGAR MAGNOLIA
14. THE WEIGHT