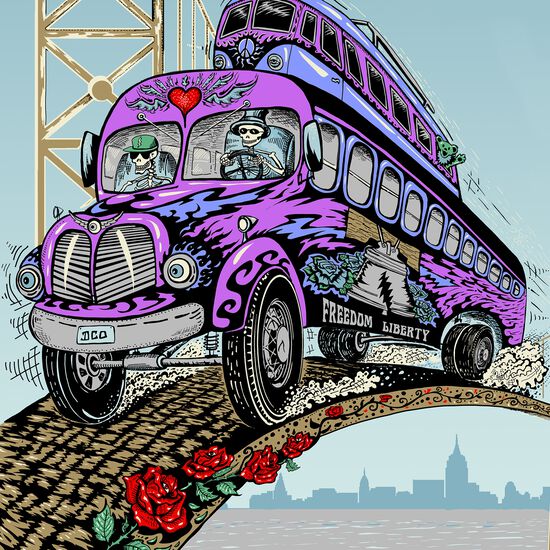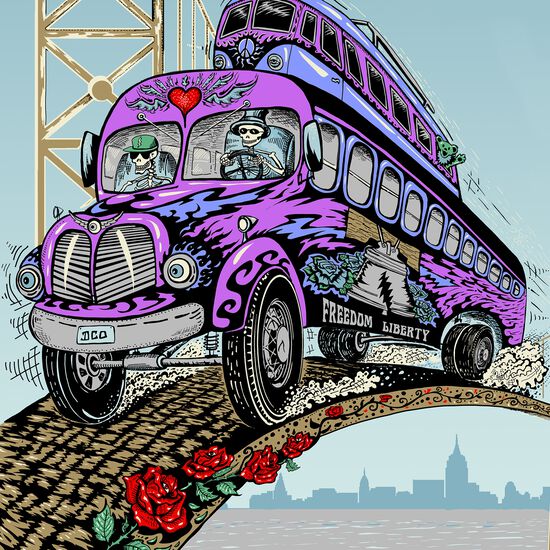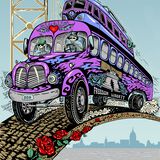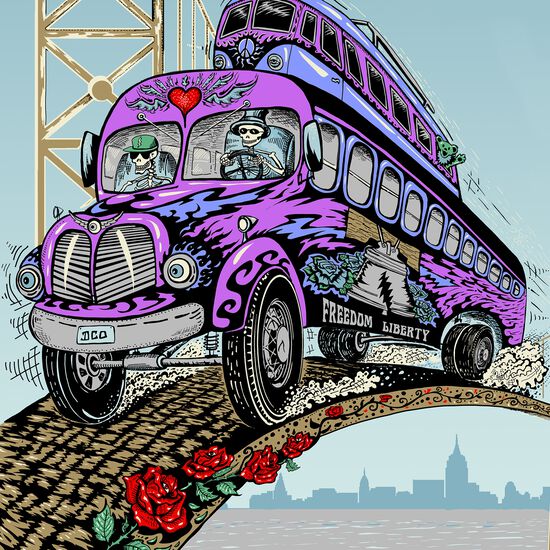 BB&T Pavilion, Camden, NJ 6/25/17 (Live) Digital
Pre-order included
Availability:
Select Styles for Availability
After a triumphant night in New York City, the Dead & Company caravan took the relatively quick drive down the Jersey Turnpike to Camden, to play at venue that had been through numerous spins of the wheel in the ever-popular game of corporate-naming-rights roulette and is currently dubbed the BB&T Pavilion, located on the banks of the Delaware River, just across from the great city of Philadelphia, which took the Grateful Dead to its heart early on and never let go. It's been frequently said that Philly audiences are hard to please, but based on the recorded evidence, that absolutely was not a problem on this night.
A nicely understated version of Bob Weir and John Barlow's ode to those long, long, crazy, crazy nights, "Feel Like A Stranger," kicks off a varied first set that ventures into Europe '72 territory with "Brown-Eyed Women" and "Ramble On Rose," followed by "They Love Each Other," which eschews its usual big-crescendo ending to instead spiral into a double shot of blues – first the Willie Dixon/Howlin' Wolf classic "Little Red Rooster," sung by Bob, then John's lead vocal on Jimmy Reed's stick-it-to-the-man standard, "Big Boss Man." Two favorites from Workingman's Dead, "Cumberland Blues" and "Casey Jones," finish off the first half in fine fashion.
To launch Set Two, the band temporarily transports us from the Delaware to the Mississippi with the irresistible New Orleans evergreen "Iko Iko." A spirited version Garcia and Hunter's cautionary tale for gamblers, "Deal" is next, followed by the trilogy of "Help On The Way," an especially deep "Slipknot!" and a "Franklin's Tower" played at a nicely relaxed tempo that creates a refreshingly different feel to the familiar tune. The "Drums" sequence is highlighted by some exotic vocal samples, and the ensuing "Space" features some attractively oblique improvisation before Jeff Chimenti's piano subtly nudges into a version of "The Wheel," the outro to which takes us on a little trip to the Caribbean, with suggestions of Latin, Calypso and Reggae at various moments. The vocal coda to the song gently fades away and the band pauses just long enough to let the silence speak for a moment, before launching into the opening notes of "Stella Blue," one of the most moving works in the Grateful Dead songbook, which is followed by one of the most joyous, "Sugar Magnolia" to close the set. The sweet encore of "Brokedown Palace" sends everyone happily home (or maybe across the river for a late-night cheesesteak).
| | |
| --- | --- |
| Feel Like A Stranger | 12:19 |
| Brown-Eyed Women | 7:01 |
| Ramble on Rose | 10:21 |
| They Love Each Other | 10:22 |
| Little Red Rooster | 10:49 |
| Bog Boss Man | 8:38 |
| Cumberland Blues | 8:52 |
| Casey Jones | 8:15 |
| Iko, Iko | 9:07 |
| Deal | 13:36 |
| Help on the Way | 4:56 |
| Slipknot! | 6:37 |
| Franklin's Tower | 9:27 |
| Drums | 7:31 |
| Space | 4:54 |
| The Wheel | 10:14 |
| Stella Blue | 10:14 |
| Sugar Magnolia | 8:31 |
| Brokedown Palace | 7:13 |