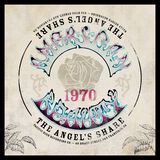 American Beauty: The Angel's Share Digital Album
Pre-order included
Availability:
Select Styles for Availability
AMERICAN BEAUTY: THE ANGEL'S SHARE brings together never-before-heard studio recordings compiled from dozens of recently discovered 16-track reels. It includes multiple outtakes for several album tracks along with demos for every song on the album (except "Box Of Rain") plus one for "To Lay Me Down," which was later included on Jerry Garcia's first solo album, Garcia. All 10 demos are available today for streaming and digital download with the full 56-track AMERICAN BEAUTY: THE ANGEL'S SHARE to be released as a digital exclusive on October 15, shortly before the 50th anniversary of the album's original release date: November 1, 1970.
Like its predecessor, the latest incarnation of The Angel's Share was made possible by the tireless work of engineer Brian Kehew and archivist Mike Johnson who – operating under the supervision of Grateful Dead legacy manager David Lemieux – spent countless hours compiling and piecing the reels together to create this revelatory experience.
AMERICAN BEAUTY: THE ANGEL'S SHARE opens with 10 demos that were recorded in August 1970 at Pacific High Recording Studio, the same place the band recorded Workingman's Dead just a few months earlier. While fans are accustomed to hearing songs evolve through the band's live recordings, this installment of The Angel's Share offers them a rare opportunity to hear songs like "Ripple" (then titled "Hand Me Down") grow from its first demo into the final version.
The vast remainder of The Angel's Share features a mix of partial and complete takes from these sessions including multiple takes of "Friend Of The Devil," "Ripple" and Pigpen's "Operator," an alternate mix of "Truckin'" and a different version of "Candyman." These intimate in-studio performances are interspersed with conversations that make it feel like you're in the studio with the band (Jerry Garcia, Mickey Hart, Bill Kreutzmann, Phil Lesh, Ron "Pigpen" McKernan and Bob Weir) along with producer Stephen Barncard and engineer Phil Sawyer.
The Angel's Share is rounded out with an acoustic mix of "Box Of Rain" and a version of "Attics Of My Life" that spotlights Garcia alone on electric guitar, both newly mixed from the band's recording sessions for the album later that summer at Wally Heider Recording.
Assembled by Brian Kehew & Mike Johnson, Sourced from 16-track reels, Los Angeles May 2020
ALAC is 44/16
FLAC is 96/24
1. FRIEND OF THE DEVIL (DEMO) [3:29]
2. SUGAR MAGNOLIA (DEMO) [3:25]
3. CANDYMAN (DEMO) [5:42]
4. TO LAY ME DOWN (DEMO) [5:44]
5. TRUCKIN' (DEMO) [4:14]
6. HAND ME DOWN (RIPPLE) [DEMO] [4:07]
7. BROKEDOWN PALACE (DEMO) [3:56]
8. TIL THE MORNING COMES IN (DEMO) [4:03]
9. ATTICS OF MY LIFE (DEMO) [4:58]
10. OPERATOR (DEMO) [2:24]
11. BOX OF RAIN (ACOUSTIC MIX) [5:24]
12. CANDYMAN (ALTERNATE TAKE) [7:45]
13. TRUCKIN' (ALTERNATE MIX) [5:41]
14. OPERATOR (TAKE 1) [SLATED] [3:07]
15. OPERATOR (TAKE 2 BREAKDOWN) [SLATED] [0:24]
16. OPERATOR (TAKE 3) [SLATED] [2:48]
17. OPERATOR (TAKE 4 BREAKDOWN) [SLATED] [0:24]
18. OPERATOR (TAKE 5) [MISNAMED AS TAKE 6] [SLATED] [2:53]
19. OPERATOR (TAKE 6 BREAKDOWN) [SLATED] [0:14]
20. OPERATOR (TAKE 7 BREAKDOWN) [SLATED] [0:12]
21. OPERATOR (TAKE 8) [SLATED] [2:44]
22. FRIEND OF THE DEVIL (TAKE 1 BREAKDOWN) [SLATED] [0:21]
23. FRIEND OF THE DEVIL (TAKE 2 BREAKDOWN) [SLATED] [0:50]
24. FRIEND OF THE DEVIL (TAKE 3 BREAKDOWN) [SLATED] [0:33]
25. FRIEND OF THE DEVIL (TAKE 4 BREAKDOWN) [SLATED] [0:33]
26. FRIEND OF THE DEVIL (TAKE 5) [SLATED] [3:37]
27. FRIEND OF THE DEVIL (TAKE 6) [SLATED] [3:32]
28. FRIEND OF THE DEVIL (TAKE 7) [SLATED] [3:42]
29. FRIEND OF THE DEVIL (ARRANGING TAKE 1) [NOT SLATED] [2:18]
30. FRIEND OF THE DEVIL (ARRANGING TAKE 2) [NOT SLATED] [1:30]
31. FRIEND OF THE DEVIL (ARRANGING TAKE 3) [NOT SLATED] [1:05]
32. FRIEND OF THE DEVIL (TAKE 9 BREAKDOWN) [SLATED] [0:16]
33. FRIEND OF THE DEVIL (TAKE 10 BREAKDOWN) [SLATED] [0:27]
34. FRIEND OF THE DEVIL (TAKE 11) [SLATED] [0:35]
35. FRIEND OF THE DEVIL (TAKE 12 BREAKDOWN) [SLATED] [0:08]
36. FRIEND OF THE DEVIL (TAKE 13) [NOT SLATED] [3:29]
37. FRIEND OF THE DEVIL (TAKE 14 BREAKDOWN) [SLATED] [0:17]
38. FRIEND OF THE DEVIL (TAKE 15) [SLATED] [3:32]
39. FRIEND OF THE DEVIL (TAKE 16) [SLATED] [3:35]
40. FRIEND OF THE DEVIL (TAKE 17) [SLATED] [3:48]
41. FRIEND OF THE DEVIL (TAKE 18) [SLATED] [0:39]
42. FRIEND OF THE DEVIL (TAKE 19) [NOT SLATED] [3:35]
43. FRIEND OF THE DEVIL (TAKE 20) [SLATED] [3:39]
44. ATTICS OF MY LIFE (TAKE 1) [SLATED] [5:54]
45. ATTICS OF MY LIFE (TAKE 2 BREAKDOWN) [SLATED] [0:23]
46. ATTICS OF MY LIFE (TAKE 3 BREAKDOWN) [SLATED] [2:53]
47. ATTICS OF MY LIFE (TAKE 4 BREAKDOWN) [SLATED] [0:46]
48. ATTICS OF MY LIFE (TAKE 5) [SLATED] [5:39]
49. ATTICS OF MY LIFE (SOLO VERSION) [5:14]
50. HAND ME DOWN (RIPPLE) [TAKE 1 BREAKDOWN] [SLATED] [1:12]
51. HAND ME DOWN (RIPPLE) [TAKE 2 WITH VOCALS] [SLATED] [3:37]
52. HAND ME DOWN (RIPPLE) [TAKE 3] [SLATED] [3:43]
53. HAND ME DOWN (RIPPLE) [TAKE 4] [SLATED] [3:46]
54. HAND ME DOWN (RIPPLE) [TAKE 5 BREAKDOWN] [SLATED] [1:33]
55. HAND ME DOWN (RIPPLE) [TAKE 6 BREAKDOWN] [SLATED] [0:42]
56. HAND ME DOWN (RIPPLE) [TAKE 7] [SLATED] [3:36]