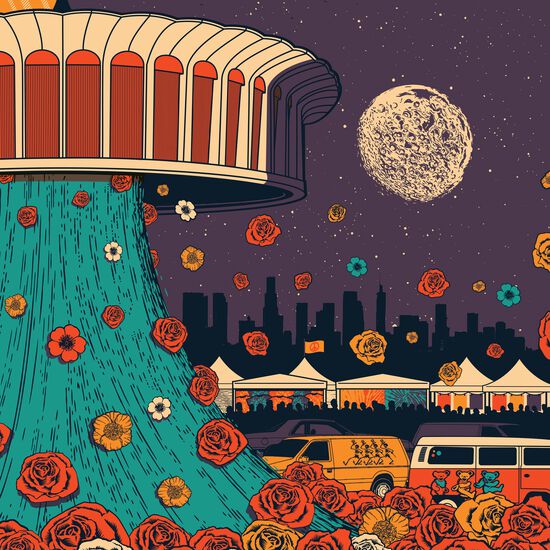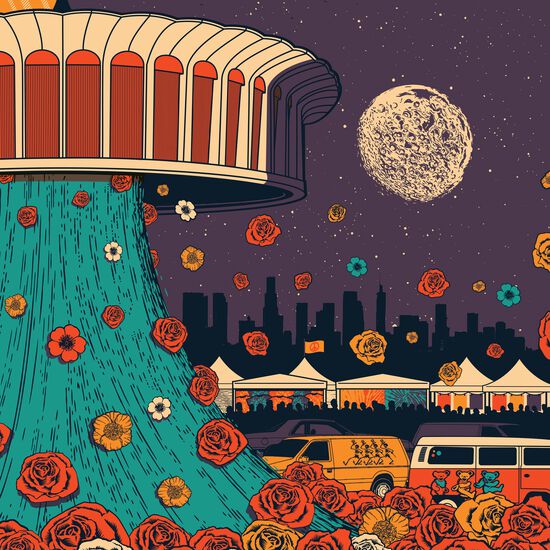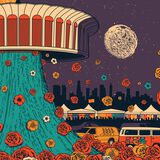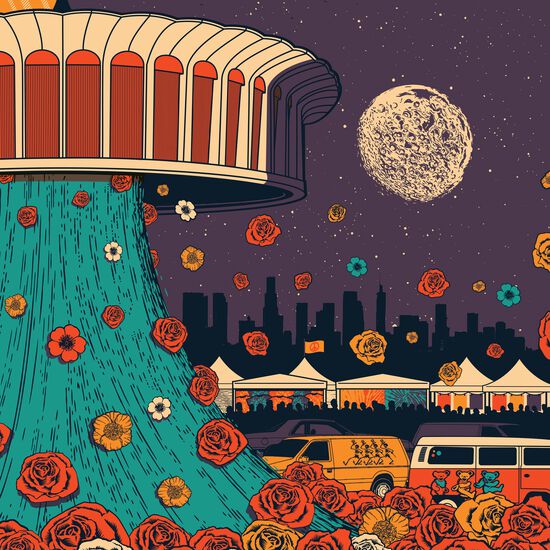 The Forum, Los Angeles, CA, 12/28/19 ALAC
There's a frequently stated and none-too-kind attitude that denizens of certain places express toward fans – whether of sports or music – in Los Angeles. Basically, it boils down to a preconceived notion that folks in Southern California are too ""laid back"" or ""mellow,"" or that their commitment is somewhat suspect – you know, the old stereotype of Angelenos who would leave Dodger Stadium in the 7th inning of a perfect game to beat the traffic. Well, how much truth there is to that notion is highly debatable, but one listen to these two nights at the Forum should convince any fair minded person that it does not apply at all in this case – what you'll encounter here is an audience that was fully engaged, wildly enthusiastic and LOUD, and Dead & Company fully earned that response.
Set one of night two takes its first leap forward by reaching way back, to the days before there was a Grateful Dead, with ""Viola Lee Blues"" – the jug band classic that graced the repertoire of Mother McCree's Uptown Jug Champions before some of that folkie combo plugged in and revamped the same song into the Dead's first great extended electric jamming vehicle. The rollicking feel of that opening carries right through to ""Bertha,"" and then back to ""Viola."" The set moves on to such favorites as ""Jack Straw,"" ""Friend Of The Devil"" and the locally apt ""West L.A. Fadeaway"" before coming to an exhilarating end with the time-tested combination of ""Lost Sailor"" and ""Saint Of Circumstance.""
The band has a little prank up its sleeve when they return from the break, launching yet again into the final verse of ""Viola Lee Blues,"" which they deftly and seamlessly turn into the opening of ""China Cat Sunflower"" before the happily stunned crowd knows what hit it. As ever, the unrestrained playing that links ""China"" with its longtime companion ""I Know You Rider"" sends the Forum into a frenzy. But more surprises lay in store. Instead of the characteristic a cappella vocal and following thunderous end to ""Rider,"" the band instead lets the song's final instrumental section spiral gently down in volume and tempo before magically transforming into ""Dark Star."" From those astral heights, the band returns to familiar terrain for a long and satisfying ""He's Gone,"" before leaving matters in the hands of the Rhythm Devils, who waste no time getting back to the realm of the otherworldly. The Space segment keeps things up in the outer reaches, before a powerhouse set-closing sequence of ""Althea,"" ""Morning Dew"" and ""One More Saturday Night."" ""The Weight"" as encore sends the crowd home happy and puts the band on the road back home to San Francisco, where they'd close out 2019 in grand style.