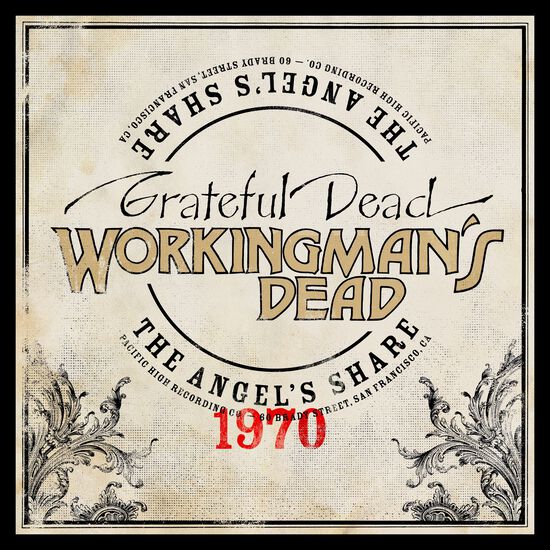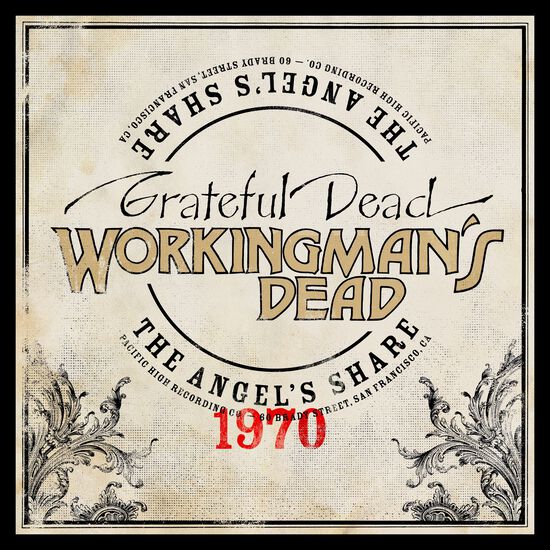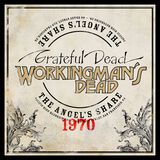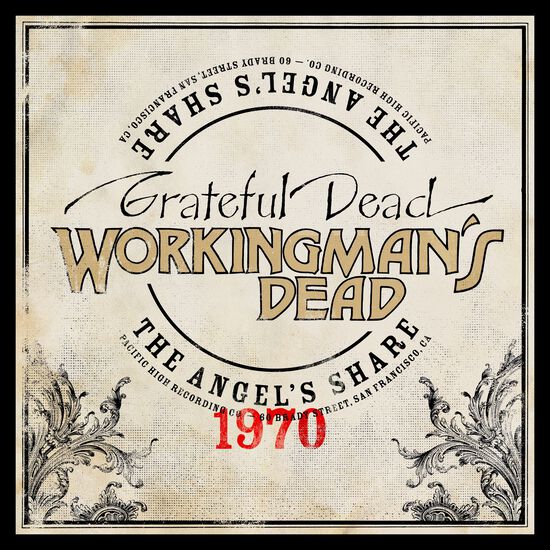 Workingmans Dead: The Angels Share Digital
Pre-order included
Availability:
Select Styles for Availability
"Keep it nice and f***ing together, you f***ers." - Jerry Garcia
We told you we had an ace in our pocket and we're calling this one THE ANGEL'S SHARE. No evaporation here though. While there may have been ingredients vital to the creation of WORKINGMAN'S DEAD that were lost and did not end up on the final album, they've come a-bubblin' up and we're more than pleased to pass the bottle around.
Compiled from dozens of 16-track reels that were recently discovered in unlabeled boxes, THE ANGEL'S SHARE includes outtakes for every song on the album, which have been unheard since they left the studio over 50 years ago. Under the supervision of David Lemieux, engineer Brian Kehew and archivist Mike Johnson spent countless hours compiling and piecing these reels together to create the final opus.
So let's step into the studio, shall we? THE ANGEL'S SHARE transports us back to 1970 to the Pacific High Recordings Studio in San Francisco. Here we'll sit in on over two-and-a-half hours of unreleased partial and complete studio outtakes and be fly-on-the wall privy to insider conversations from the WORKINGMAN'S DEAD recording sessions. We'll hear discussions of pacing and arrangements, "talkback" from the studio to the control room with the album's producers, Bob Matthews and Betty Cantor-Jackson, and even the shuffling of feet on the studio floor. We'll witness stripped-back instrumental takes lending new beauty to "High Time," and heightened joy to "Uncle John's Band," catch "New Speedway Boogie" settling into a steady groove, Pigpen prowling and howling his way through "Easy Wind," and top it all off with a blazing "Casey Jones." Hot damn, hot damn!
Assembled by Brian Kehew & Mike Johnson, Sourced from 16-track reels, Los Angeles May 2020
ALAC is 44/16
FLAC is 96/24
Side A:
1. UNCLE JOHN'S BAND – total playing time: 10:13
2. HIGH TIME – total playing time: 16:02
3. DIRE WOLF – total playing time: 26:54
4. NEW SPEEDWAY BOOGIE – total playing time: 29:12
Side B:
1. CUMBERLAND BLUES – total playing time: 3:26
2. BLACK PETER – total playing time: 20:13
3. EASY WIND – total playing time: 35:30
4. CASEY JONES – total playing time: 11:00
---
1. UNCLE JOHN'S BAND (SESSION) – total playing time: 10:13
A. Not-slated false start 00:00-01:04
("Nothing to lose but our lives" - Jerry)
B. Not-slated breakdown 01:04-02:13
C. Not-slated false start 02:13-02:40
D. Not-slated complete take 02:40-07:24
E. Slated Take 6 breakdown 07:24-08:27
F. Slated Take 7 breakdown 08:27-10:13
2. HIGH TIME (SESSION) – total playing time: 16:02
A. Not-slated breakdown 10:13-11:37
B. Not-slated breakdown 11:37-12:47
C. Slated Take 3 breakdown 12:47-13:13
D. Not-slated complete take 13:13-18:52
E. Chatter 18:52-19:38
F. Not-slated complete take 19:38-25:10
G. Not-slated complete take 19:38-25:10
H. Slated Take 6 breakdown 25:10-25:56
I. Slated Take 7 breakdown 25:56-26:13
3. DIRE WOLF (SESSION) – total playing time: 26:54
A. Not-slated breakdown 26:13-27:39
B. Not-slated complete take 27:39-30:29
C. Not-slated complete take 30:29-34:50
D. Slated Take 2 breakdown 34:50-36:00
E. Slated Take 3 false start & breakdown 36:00-36:48
E. Not-slated breakdown 36:48-37:44
F. Slated Take 6 breakdown 37:44-38:58
G. Not-slated breakdown 38:58-39:39
H. Not-slated false starts 39:39-40:01
I. Not-slated breakdown 40:01-42:19
J. Not-slated false starts 42:19-43:28
K. Not-slated complete take 43:28-47:53
L. Not-slated complete take with scratch vocals 47:53-52:28
M. Not-slated false start 52:28-53:06
4. NEW SPEEDWAY BOOGIE (SESSION) – total playing time: 29:12
A. Not-slated acoustic guitar & drums with vocals demo complete 53:06-55:41
B. Not-slated complete take with vocals 55:41-59:39
B. Slated Take 2 breakdown with vocals 59:39-1:01:14
("Take 2" – Betty Cantor)
C. Slated Take 3 breakdown with vocals 1:01:14-1:02:54
("It's hard for me to sing and maintain a groove." - Jerry)
D. Slated misnamed as Take 3 false start with vocals 1:02:54-1:03:08
E. Slated Take 4 complete take with vocals & lead guitar 1:03:08-1:07:33
F. Not-slated arranging take 1:07:33-1:10:12
G. Not-slated breakdown with vocals 1:10:12-1:11:11
H. Not-slated breakdown with vocals 1:11:11-1:13:10
I. Not-slated complete take with vocals 1:13:10-1:18:00
J. Slated Take 8 complete take with vocals 1:18:00-1:22:18
5. CUMBERLAND BLUES (SESSION) – total playing time: 03:26
A. Not-slated & Take 9 various breakdowns 00:00-03:26
6. BLACK PETER (SESSION) – total playing time: 20:13
A. Not-slated breakdowns 03:26-04:30
B. Not-slated breakdown 04:30-05:42
C. Chatter 05:42-07:28
D. Not-slated breakdown 07:28-13:08
E. Not-slated breakdown 13:08-17:50
F. Not-slated complete take with vocals 17:50-23:36
7. EASY WIND (SESSION) – total playing time: 35:30
A. Not-slated complete take with vocals 23:36-28:26
("I wants to listen to that one." – Pig Pen)
B. Not-slated breakdown with vocals 28:26-29:17
C. Not-slated breakdown with vocals 29:17-33:39
D. Not-slated breakdown with vocals 33:39-34:50
E. Not-slated breakdown with vocals 34:50-36:55
F. Not-slated complete take with vocals 36:55-41:45
G. Not-slated false starts & breakdown with vocals 41:45-43:32
H. Not-slated incomplete take with vocals 43:32-44:14
I. Slated Take 17 complete take with vocals 44:14-50:55
J. Slated Take 18 breakdown with vocals 50:55-51:44
K. Slated Take 19 breakdown with vocals 51:44-52:50
L. Slated Take 20 complete take with vocals 52:50-57:25
M. Slated Take 21 false start with vocals 57:25-57:46
N. Slated Take 22 breakdown with vocals 57:46-58:25
O. Slated Take 23 breakdown with vocals 58:25-59:03
8. CASEY JONES (SESSION) – total playing time: 11:00
A. Not-slated breakdown 59:03-1:01:55
B. Not-slated breakdown 1:01:55-1:05:05
C. Not-slated complete take with vocals 1:05:05-1:09:40